IGNOU BA Assignment for session 2020 – 21: Indira Gandhi National Open University ( IGNOU ) releases assignments for session 2020-21.
Now IGNOU BA Assignments for session 2020-21 available in both language Hindi and English on the official website of IGNOU.
In this post, we are providing a direct link for downloading your BA assignments and also we solved some queries related to the IGNOU assignment.
So read the post carefully, you will get all the answers related to your queries and also how to solve the assignment of BA.
BACHELOR OF ARTS IGNOU – BA ( Bachelor of Arts ) programme is of 3 years course which has 6 semesters and your exams are conducted in every semester and before your semester's exams you need to submit your assignment to your study centre before last submission date of assignments.
Remember, IGNOU assignments are equivalently important to your theory and practical exams & it is necessary to pass the IGNOU assignment.
If you pass in your theory and if you failed in your assignment it means your result will incomplete.
IGNOU BA ASSIGNMENTS 2020-21
Before getting your assignments you need to remember your subject code like FEG 02 – Foundation course in English. According to your subjects code you need to download your assignments.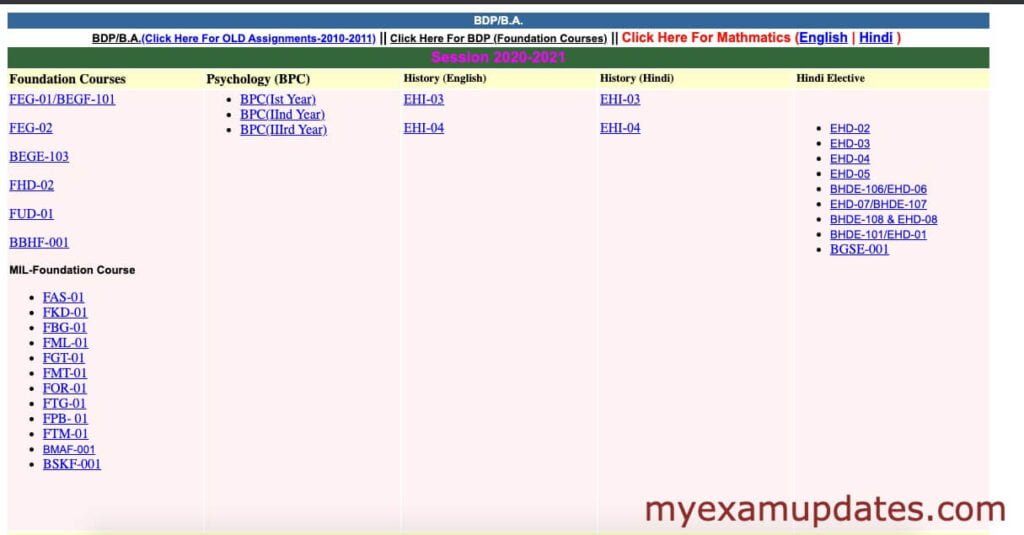 Step 1 – Visit IGNOU ASSIGNMENTS SECTION By Clicking Here – ( BA IGNOU ASSIGNMENTS ).
After Visiting, you can see all the subjects assignments.
Step 2 – Now click on the course code according to your subjects.
Step 3 – After clicking on the Course code your assignment will download on the pdf format.
In IGNOU BA Students has to choose the subjects on three types of courses in which some have compulsory subjects and some are optional.
It's totally depends on your choice. According to your subjects download your assignment.
FAQ Related to IGNOU BA ASSIGNMENT
What is the last date for submitting IGNOU BA Assignments?
For July 2020 Session the last date for submitting your BA assignments is 31 March 2021 & For January 2021 Session The last date for submitting your BA assignments is 30 September 2021.
It is necessary to submit IGNOU assignments ?
Yes, your assignment marks are equivalent to your theory and practical exam marks, and assignment marks are also added to your final grade card.
Can I submit printed assignments ?
Absolutely No, Your assignment should be handwritten.
Where to submit IGNOU assignments ?
you can submit your IGNOU assignment of your study centre or regional centre and you can also submit your assignment online.
If you have any problems regarding to your assignments then you can comment below and ask your questions.