Dear students, if you want to check your IGNOU grade card status and want to know how many marks you get in your assignments or practicals or TEE ( Term End Examinations ) then follow the below steps.
Your Indira Gandhi National Open University ( IGNOU ) Grade Card Contains your course code, assignment marks, practical marks, and your TEE Marks (Term End Examination) Marks.
IGNOU will release IGNOU 2021 Grade Card For February- March Examination in the month of April and if you want to see your January 2020 or June 2019 – July 2020 Grade Card then IGNOU has already Updated assignment marks and promotes every student who wants to promote and submit their assignment of the session. you can check the assignment marks of your previous session.
Step By Step Process to Check IGNOU Grade Card Status
Step 1 – Visit official website of IGNOU – ( IGNOU OFFICIAL WEBSITE )
Step 2 – After Visiting, You can see a menu of student support, Click on student support now you can see the sub-menu of results. you need to click on results as shown in the below image.
Step 3 – Now you can see an option of grade card below as shown in the below image. Click on the grade card.
Step 4 – Now you can see three options if you are a student of BCA, MCA, MP, MPB students then click on the first option and if you are students of these program BA, BCOM, B.Sc, BDP, or ASSO programs then click on the second option and if you are the student of any other program then click on them for other programmes.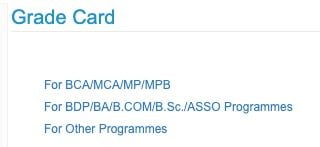 Step 5 – After choosing your program then you need to put your enrollment number and program code after that you can see your grade card on your screen.
Now you can see your grade card and grade card status.
Also Check – IGNOU Exam Form
Noted – if you are seeing in any subject status not completed it means your subject is not cleared and if you seeing status completed in the front of your course code it means you are pass and you successfully clear the subject.
Also, Check – IGNOU Assignment Front Page
Frequently Asked Questions
How to check I am pass or fail in IGNOU grade card?
In your grade card, if in front of your subject status is completed it means you are pass and clear your subject if in front of any subject the status shows not completed it means you have not cleared that subject & you need to give that exam again of that particular subject which status shows not completed.
How to check ignou grade card status?
you can check your grade card by visiting the official site of ignou and after that click on student zone then click on results after that you can see the option of grade card. now put your program code and enrollment number to check your grade card.
When will the grade card of IGNOU TEE December 2020 be released?
IGNOU will release the grade card of December TEE 2020 may be in the month of April.